Work related stuff took me to Zagreb on Monday and Tuesday. I packed lightly, told myself I won't carry too much, so that I don't schlep heavy bags around the bus stations.
I ended up carrying almost two kilos of yarn back home. Damn the
Unitas
store!
All I can say in my defense: The yarns stores here don't carry these yarns. And I bought it all in the factory store, so it was relatively cheap.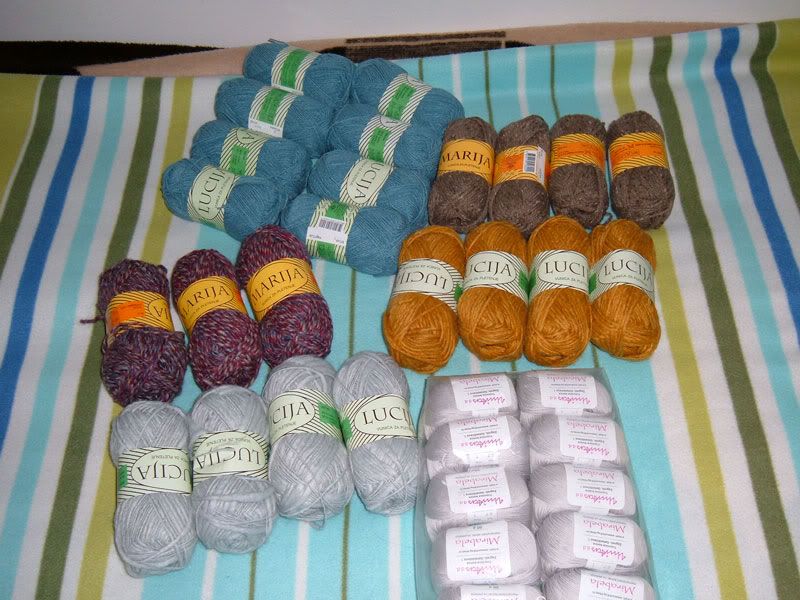 So my stash grew and now I have no place to put all this yarn. I really need to get knitting. But as always, this was an impulse buy, and I have no idea what to do with it all. I see 4 hats ( or maybe cowls), one cardigan with 3/4 sleeves and a cotton T-shirt in my future. If only I had an actual pattern in mind!
This amount of stash is actually making me anxious - I'm knitting one thing and thinking about all the other stuff I could knit. It's time to stop and consider getting professional help. Step one: Stay as far away from yarn shops as possible. Of course, I always tell myself this, and fail miserably in actually sticking to it.

Stash aside, this is what I'm working on now: Fetching for a friend, whose birthday is in five days. The only reason I chose Fetching is because I've already knit myself a pair and know for a fact they knit up fast.

Special note: Those are Addi needles you see up there. Love the flexible cables! Love the smooth surface of the needles! Thanks romantales for the recommendation!